Lost & Found: Works by Marcia Mazak, Gwen Waight and Bret Hines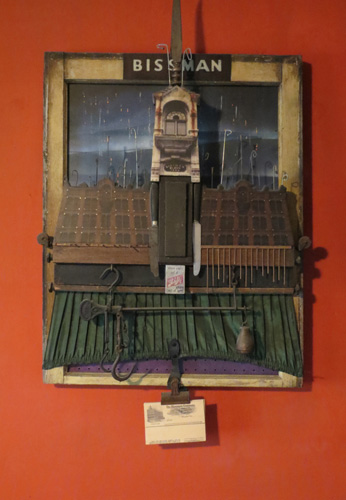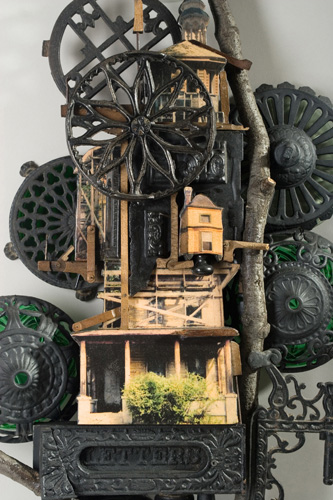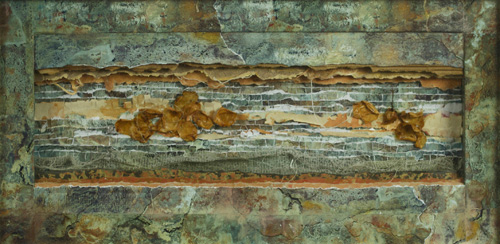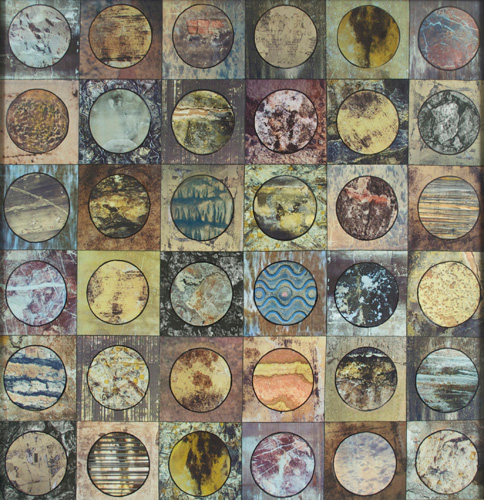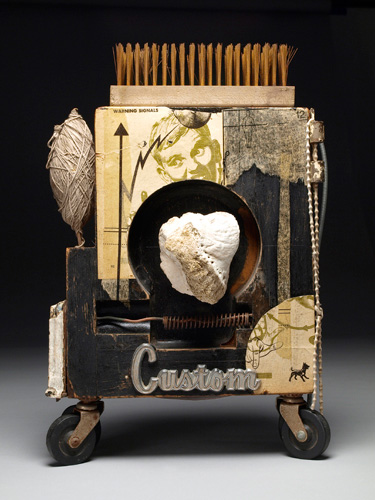 Monday October 29 – Friday January 11, 2013
Opening reception for the artists: Monday November 5, 5:30 – 7:00pm, RSVP to bspiegle@plaind.com
The Plain Dealer Corporate Headquarters
1801 Superior Ave, Cleveland Ohio 44114
Gallery Hours: Mon - Fri. 9am – 5:00pm
The exhibit is on view in the PD lobby and visitors are welcome if they notify the PD ahead of time
Lost and Found; A search for beauty in the discarded, is an exhibit showcasing the works of three Summit County artists, Bret Hines, Gwen Waight and Marcia Mazak. It takes the eye of an artist to find significance in that, which the rest of us have overlooked. "Lost & Found " is an exhibit of three such artists, all from Summit County, all working within the mediums of collage and assemblage. Marcia Mazak, Gwen Waight and Bret Hines have all chosen to focus their talents on the forgotten and discarded fragments of man and nature that are found around them everyday. They share an appreciation for the thing that is old, worn, weathered or broken. Such detritus has a history to tell and history is a big part of all of their work. In their capable hands a magical transformation takes place that pulls these objects from their original contexts and gives them a new life.
Bret Hines work has developed naturally out of his love for the older architecture of the small towns and cities of Ohio as well as neighboring rust belt cities of Erie PA, and especially Buffalo NY. He visits derelict residential and industrial buildings that are slated for demolition and reclaims the minutia of the interiors for use in his assemblages. In the process of searching for materials he researches the history of the buildings he is most interested in and this becomes an important part of the associations between the objects in his work. He pays particular attention to architectural details like doorknobs, cornices, spindles, door hardware and anything else that defines the character of an interior that can be salvaged. Bret Hines is a self-taught artist. Although artistic talent runs in his family, he was a collector long before he was an artist. His first assemblage was made many years ago from a collection of doorknobs and is a strong but simple piece. His work has grown greatly in emotional depth and physical complexity since then. He now regularly incorporates his photographs of buildings, architectural relief's, windows and doorways as part of his assemblage technique. Combining his photographs with the harvested architectural elements results in haunting works of art that impart a dreamy, ethereal and often melancholy atmosphere.
Gwen Waight holds a BA from the University of Iowa in sculpture and ceramics. She worked for many years for her father, a professional ceramic artist, and was set to follow in his footsteps when she had an epiphany one day while hiking. She spotted an old, cracked, croquet ball and it intrigued her so much that she had to pick it up. The history within the weathered surface and the mystery of the discarded object had enthralled her. From that point on she has amassed a collection of thousands of objects of similar bearing. Anything and everything imaginable can be found within her house and studio. The common tie that binds her collection together is the connection that she feels to the objects and the history of their use or abuse. All of these things she combines into sculptures that are frequently anthropomorphic, mostly whimsical, and usually ironic. Of the three artists in this exhibit she is the one whose work most often makes a humorous commentary on our pop culture and its obsessions. Through the juxtapositions of the discarded objects she has chosen, she reminds us that we should not take ourselves too seriously.
Marcia Mazak is the oldest artist of the three and stylistically her work extends across the widest range. After resuming her commitment to art after a long hiatus she found that her focus had shifted from strictly painting in oil and acrylic to an interest in mixed media and collage. She now uses paper, paint, pastel, fiber, found objects and her photographs to communicate in a way that is gratifying to her and challenging for the viewer. Her work is the most textural of the three artists and relies very much on natural objects and references to geologic formations. The rocks, mesas and arroyos of New Mexico where she used to live continue to influence her work today. Her collages, with their strata of papers are a metaphor for Earth's history and as such, a portrayal of time. She frequently orders the different the materials into archetypal symbols and geometric patterns, which hold specific personal meanings for her. She writes, "With the use of my varied materials I strive to present reflections of the past with a contemporary statement of our world".
A wine and cheese reception for the artists will be held midway through the show. The reception is open to the public but an RSVP is required to attend. This show is presented by City Artists at Work in partnership with The Plain Dealer. CAAW is a non-profit artists group that is located in the same Cleveland neighborhood (The Quarter Arts District) as the Plain Dealer and has a unique relationship with the Plain Dealer in showcasing work by the artists of the "Quarter". As co-directors of CAAW William Martin Jean and Mindy Tousley have curated many exhibits for the Plain Dealer lobby over the past 8 years. This will be the first exhibit focusing on artists from the Akron area.